What is XR or Extended Reality?
XR is a universal term embracing immersive learning technologies such as virtual reality (VR), augmented reality (AR), and mixed reality (MR). These technologies either add or simulate the real world experience by adding the digital layer which could be effective way of powerful storytelling, narrative experience, and unique insights.
Why is STEAM is need of 21st Century?
STEAM learning helps shape the intellectual self through skills such as critical thinking, problem-solving, creativity and communication. STEAM learning is not just about mastering subjects but also about leveraging knowledge to innovate.
Leveraging the extended reality to teach STEAM topics
Amalgamation of technology with education is always fun whether it is simple conversion from black boards to digital/smart boards or replacing the textbooks with tablets learning. Technologies such as virtual reality, augmented reality, and mixed reality are the means to visualize abstract concepts and could help improve students' learning outcomes in STEAM subjects. Remember Edgar Dale's cone of learning model, learners retain more information by what they "do" as opposed to what is "heard", "read" or "observed".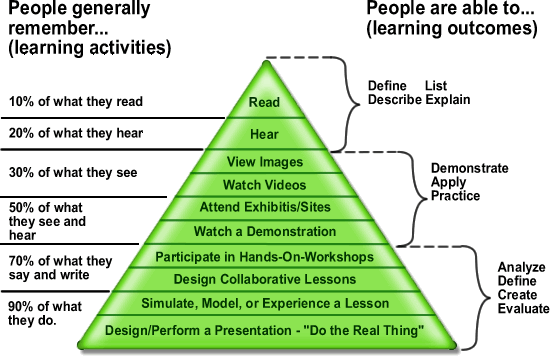 Technologies like virtual reality, augmented reality and mixed reality is the perfect match for such kind of learning methodology.
In next section of the blog checkout five cool and fun based immersive learning experience which are worth watching or exploring for learning methodology either in schools or homes.
Fantastic Contraption is surreal building game for virtual reality. Create life-sized machines as tall as you can reach, then send them whirling, flinging, and trundling off to solve puzzles on the other side of a floating island. With challenging problem statement and infinite solution landscape. You may get full scoop here.
Fantastic Contraption a launch title bundled with the HTC Vive and is also available for Oculus Touch and PS VR. Millions of people played it obsessively and saved over 12 million contraptions.
Cost: Paid
A gamified solution and curriculum for classroom and individual remote teaching the robotics in VR for students. Tackling the problems of early professional orientation and equal access to education. Schools with underserved or underrepresented students could benefit from our scaled and cost-effective solution.
It's accessible directly through Steam or Windows demo here and requires the head mounted devices to explore, learn and play.
Cost: Demo and Paid
Experience a new level of understanding science in VR or 3D.
Over 70 VR lessons and tests covering the school chemistry and physics curriculums.
MEL Science received the EdTech Cool Tool Award as the best VR/AR solution of 2020. The EdTech Awards is the largest and most competitive recognition program in all of education technology.
Simulation available on PlayStore, AppStore, Oculus Store and Website.
Cost: Demo and Paid
Wrench is a mechanic simulator where players prepare and maintain race cars. The parts in Wrench are the most detailed of any game in the genre. Extreme attention has been paid to even the smallest components, including fasteners which are accurate to the thread pitch and install torque.
Fun fact, Wrench is developed by a two person team passionate about motorsports and simulation detail.
Realistic and immersive solution is available to download from Steam and Oculus Store.
Cost: Paid
QwikXR is an interactive cloud-based learning solution specifically designed for kids age 7–16 years old. Where kid's not only code using the visual coding editor but also design their creation in 3D/AR/VR/MR.
It provides simulation solutions and allows users to learn subjects such as chemistry, physics, biology, arts, history & others in a superimposed or virtual environment. Also allows users to create as well as interact, discover, or collaborate with 3D content.
Cost: Freemium and Premium
If there are any other XR experiences you'd like us to include, let us know at [email protected]